This 12 foot wrought iron style driveway gate uses a FM 200 Might mule (shown here). The FM 200 is perfect to open gates this size.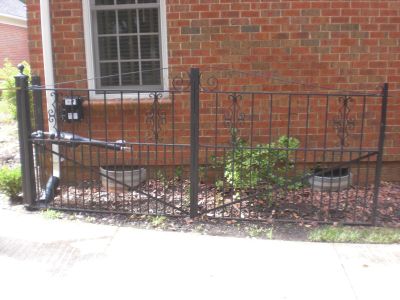 BlueFlag Railing and fence installs FM 200's for your driveway gate.
704-237-0743 24 hr Free Google message center
Mighty Mule FM200 Gate Opener For Single Gates Up to 12-Feet Long and 300-Pounds
List Price:
$275.00
Amazon.com's Price:
$212.68
You Save:
$62.32 (23%)
as of 07/03/2011 11:31 EDT
Availability:
Usually ships in 24 hours
This item ships for FREE with Super Saver Shipping.

Binding:
Tools & Home Improvement
Brand:
Mighty Mule
EAN:
0090835003345
Item Dimensions:
600
3200
18
900
Label:
Mighty Mule
Manufacturer:
Mighty Mule
Model:
FM200
MPN:
FM200
Number Of Items:
1
Publisher:
Mighty Mule
Studio:
Mighty Mule
Features:
Designed for gates up to 12-feet long and 300-pounds
Designed for optimum solar performance with 5-watt solar panel
Works with an automotive or marine battery which optimizes performance in cold weather (battery not included)
Easy to install, includes all necessary mounting hardware and detailed installation manual, designed for the "Do-It-Yourself-er"
Backed by the 12-month Mighty Mule warranty
---
Features:
Designed for gates up to 12-feet long and 300-pounds
Designed for optimum solar performance with 5-watt solar panel
Works with an automotive or marine battery which optimizes performance in cold weather (battery not included)
Easy to install, includes all necessary mounting hardware and detailed installation manual, designed for the "Do-It-Yourself-er"
Backed by the 12-month Mighty Mule warranty
Related Items:
Related Items:
see more
Accessories:
Accessories:
see more
Browse for similar items by category:
Click to Display
---
Editorial Review:
Product Description:
This Mighty Mule light duty swing gate opener lets you avoid getting out of your vehicle (or off your horse) to close your gate, especially in bad weather. Application: Swing gate opener, Works With: Light-duty gates, Capacity (lbs.): 300, Length (ft.): 12
---